BTH-02A Marathon Carriage
Brief Info of Carriage:
BTH-02A Marathon Carriage. For horse driving, horse training. Solid rubber wheel and pneumatic wheel. Please call on 008615825773908(Justin)for more.
Specific Introduction
BTH-02A high quality marathon cart, marathon training carriage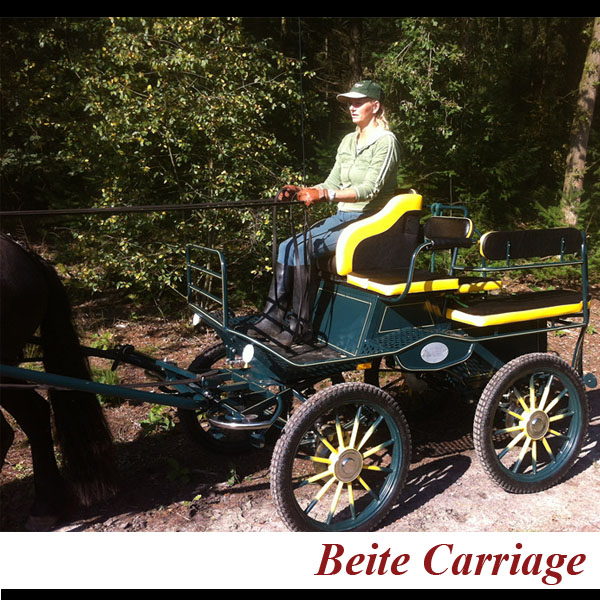 Model: BTH-02A

Packing

Standard color

red, deep blue, green, black

Capacity

2pcs in one carton

Dimension

2380*1280*1620mm( L*W*H)

16pcs/40HQ

Net weight

306kg/673lb

Packing size

2300*1380*2650mm

Wheel

3.0"-23"pneumatic/solid wheel

Packing weight

521kg/CTN

Axle base

1180mm/46.46"

Features

Seat

360 degree turning plate

Stainless steel trims and spokes

Four wheels hydraulic system

Pole for two horses, shafts for one horse

Brake lock

Driver seat

500*470*500mm( L*W*H)

Back seat

980*400mm( L*W)
Now Our products include: miniature horse cart, miniature cart, mini cart, pony horse cart, pony carriage, pony cart, cob horse cart, cob carriage, arab horse cart, arab carriage, horse cart, horse drawn carriage, draft horse cart, draft cart, pleasure horse cart, pleasure carriage, easy entry style cart, easy entry cart, marathon training carriage, marathon training horse cart, horse training cart, horse cart carriage, marathon carriage, sulky horse cart, sulky cart, kid's pedal sulky cart, racing sulky, marathon carriage BTH-01, marathon carriage BTH-02, marathon carriage BTH-02D, marathon carriage BTH-08.